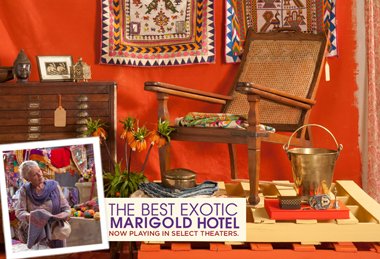 Last weekend I went to see The Best Exotic Marigold Hotel, a new film about a group of British senior citizens looking to retire in style -on a budget. Each has their own reasons for relocating to The Best Exotic Marigold Hotel in India, and some are more enthusiastic about their new adventure than others.
Movie Trailer: The Best Exotic Marigold Hotel
Directed by John Madden and starring Judi Dench, Dev Patel, Tom Wilkinson, Maggie Smith and Bill Nighy, the film is one of the best I have seen in quite a while in terms of both story and set design
.
The set decoration for the colorfully exotic, albeit down at the heel hotel was achieved by Tina Jones (The Bourne Ultimatum, Jane Eyre, The Queen) with art direction by Peter Francis and Andrew Rothschild.
The hotel was the kind of place you knew would be breathtaking given the right designer and an infusion of cash. Still, it was charming with decor I would describe as romantic bohemian.
Starting tomorrow, some those wonderful things will be going on sale to the public.
Susan Feldman, co-founder of the online shopping site, One Kings Lane has gathered products with "the same lush, spicy palettes, patterns, and spirit" of those in the movie and combined them with authentic props straight from the film. Proceeds from the sale of the Best Exotic Marigold Hotel items will benefit Direct Relief International.
The sale is scheduled to begin online tomorrow: Friday, May 18th! Log on here and take a look! Happy Hunting!